KALAELOA YESTERDAY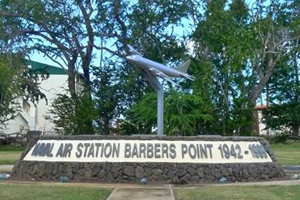 Kalaeloa encompasses approximately 3,700 acres in the Kapolei/'Ewa region that was actively used by the U.S. Navy from 1942 to 1999 as Naval Air Station Barbers Point.
Before 1999 when it was closed, Naval Air Station Barbers Point was a thriving base and significant community of as many as 6,500 military, civilian employees and family members. Kalaeloa was home to the largest naval air station in the entire Pacific, but in the decade after its closure, those abandoned structures became graffiti-laden eyesores that posed a health and safety hazard.
With the closure of the base in 1999, the community lost thousands of jobs and access to several community services. The State of Hawai'i has since undertaken the task of planning for the redevelopment of Kalaeloa and, with community input, created the Kalaeloa Master Plan to chart a course for the social and economic growth of the area.
By the time the U.S. Navy conveyed to Hunt the leasehold interest to the 540-acre portion of the former air station in 2009, Hunt was faced with immense challenges that included aging infrastructure, vacant and deteriorating buildings, landscape overgrowth, vandalism, dumping, copper theft and homeless issues.
KALAELOA TODAY
By investing tens of millions of dollars to redevelop the area, Hunt Companies has helped attract 50 local businesses – including essential services like the Kama'aina Kids preschool, Ulu A'e Learning Center and Tripler Army Medical Center's Warrior 'Ohana Medical Home – and nearly 500 jobs that did not exist in the area just a few years ago.
Today, Kalaeloa is thriving and has much to offer to live, work and play right in this community.
Wākea Garden Apartments, Hunt Companies' first residential project, opened in June 2015 and was renovated in 2020. Hunt invested approximately $12 million into the renovation of a former U.S. Navy bachelor officer quarters, turning a dilapidated magnet for vandals into a 100-unit reserved-housing rental building for local families.
Kalaeloa Professional Center is home to a number of critical and convenient services including the Family Tree Project counseling service, Tax Connection, Warrior 'Ohana Medical Clinic and a significant call center for a local credit union. And Kalaeloa is a growing entertainment hub with a wide array of unique recreation options for the whole family. The area is bursting with diversions from the Barbers Point Bowling Center, and Coral Crater Adventure Park, which unveiled its ziplines, ATVs and other outdoor activities in December 2016. In addition to bringing more community amenities to the area, Hunt has implemented a robust security presence, upgraded the landscaping, is currently working with various entities to address the issues related to area's infrastructure and connectivity.
KALAELOA TOMORROW
Over the next two decades, Hunt Companies will continue to transform our 540 acres in Kalaeloa into a desirable community anchored by a pedestrian-friendly town center. Kalaeloa will feature several different neighborhoods centered around local schools, small parks and community recreation centers along Saratoga Avenue, which will eventually be transformed into the community's Main Street. Kalaeloa will be home to at least several hundred new businesses, 5,000 additional jobs and somewhere around 3,000 more homes in Kalaeloa as part of a coherent and fully integrated community with easy access to an array of critical services, educational centers and other amenities like recreation and entertainment.
LINKS:
Hawai'i Community Development Authority – Kalaeloa
Hawai'i Community Development Authority's Kalaeloa Master Plan
ABOUT HUNT
Founded in 1947, Hunt Companies, Inc. (Hunt) is today a holding company that invests in business focused in the real estate and infrastructure markets. The activities of Hunt's affiliates and investees include investment management, mortgage banking, direct lending, loan servicing, asset management, property management, development, construction, consulting and advisory. Hunt has been active in Hawai'i for more than two decades, and has long been recognized for its innovative renovation of underutilized military properties, as well as its commitment to creating premier master-planned communities that complement the cultural and geographical riches of the Hawaiian Islands.
Contact Us
Thank you for contacting Renew Kalaeloa
Your submission contains errors, please correct them and try again.