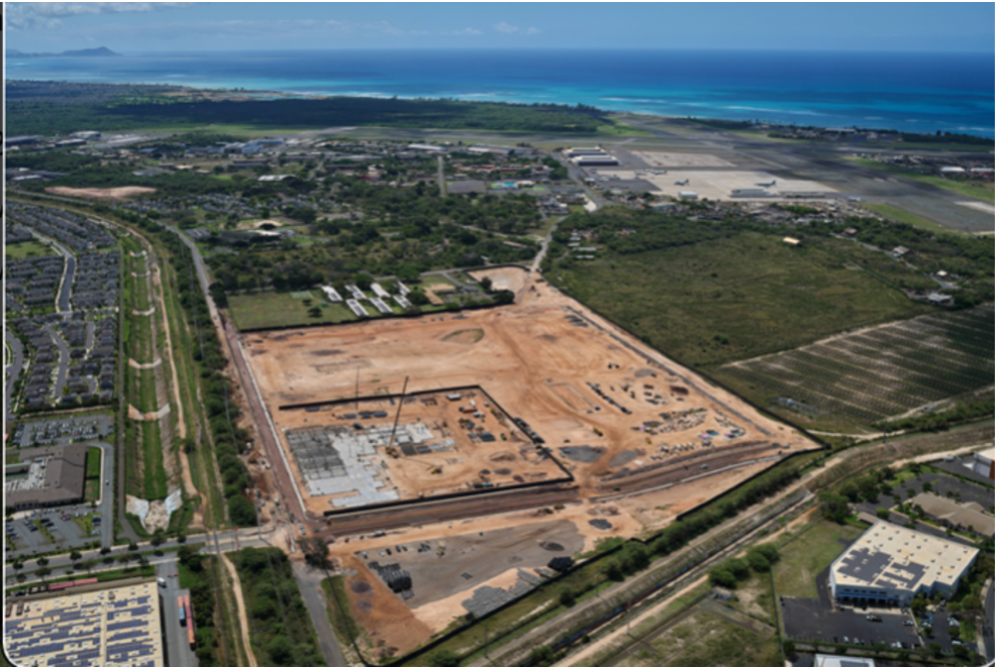 Hunt's vision for Kalaeloa is taking shape as the team lays the foundation for the future. Work is progressing on schedule, and with the earthwork complete, crews are focused on utilities and roadways. Underground utilities are being installed on Boxer Road and Copahee Avenue, and roadwork is underway on Kamokila Boulevard, with curbs, gutters and sidewalks taking shape along the 1,300-foot stretch.
The intersection of Franklin D. Roosevelt Avenue and Kamokila Boulevard has been shut down since the week of May 23 to expedite construction. The electrical conduit is being installed at the intersection, pavement has been removed from the mauka side of FDR Avenue and utilities are going in. The Hunt team has been working closely with Costco Kapolei nearby to help increase traffic flow and access to the warehouse. The intersection is anticipated to reopen the weekend of July 30.
One of the beacons of Kalaeloa's future — the newly named Daniel Kahikina Akaka Department of Veterans Affairs Community-Based Outpatient Clinic — is progressing as planned. One year after Hunt began infrastructure construction and road improvements to prepare for the clinic, the concrete building foundation and underground utilities are in place, and structural columns to support the building are being erected. The 89,000-square-foot, $120 million clinic will provide specialized health care for more than 87,000 Hawaiʻi veterans.
Work is also underway at a nearly eight-acre site along Bougainville Avenue and Nassau Street. Last year, the parcel was graded and improved with recycled asphalt. Crews will widen drainage basins and pave the site to prepare it as a vehicle processing center for Servco, to be complete later this summer.
In consultation with the State Historic Preservation Division (SHPD) and Honua Consulting, Hunt is working to ensure that areas of historical and cultural significance, including burial sites, are identified and respected. A plan is being developed to maintain a buffer zone around the sites.
Hunt's work in Kalaeloa maintains the company's commitment to revitalize the area and bring jobs and homes to local residents. The top priorities during construction are to complete these necessary improvements as efficiently as possible, while providing safe access in and around Kalaeloa with minimal interruption. During this long-term project, Hunt will provide regular updates at www.huntkalaeloa.com.
---
Posted on July 12, 2022