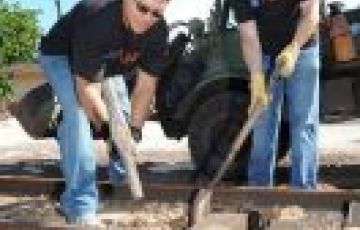 In August, a dozen of Hunt's Hawai'i team members braved the heat to work with the Hawaiian Railway Society to restore O'ahu's only historic railroad, which happens to run along the northern boundary of Hunt's properties in Kalaeloa. Throughout the morning, the team worked hard trenching, lifting, filling, tamping and spiking to replace broken railroad ties.
"Our core group of volunteers has worked to restore this railroad for more than 30 years," said Hawaiian Railway Society Vice President Larry Howard. "So we are getting too old for this work. We normally replace about six to 10 ties each work day, but with Hunt's help we were able to replace 25 ties."
"In addition to Hunt's restoration work on the railroad, we wanted to bring attention to the immediate need for volunteers to preserve this important part of Hawai'i's history," said Jose Bustamante, Vice President, Hunt Companies Hawai'i Region – Development Division. "The Hawaiian Railway Society has an aging volunteer base that needs the next generation of young volunteer leaders to continue this critical historic preservation effort."
The Hawaiian Railway Society is an educational, non-profit organization dedicated to saving, restoring and protecting Hawai'i's railroading history. It maintains the only operating railroad museum in Hawai'i and offers weekly train rides that keep history alive for residents and visitors. The organization was able to get the remaining stretch of track on O'ahu (from Ewa to Nānākuli) placed on the State and National Registers of Historic Sites. Today, the Society has restored about 6.5 miles of track and works to restore more.
For details on how you can help the Hawaiian Railway Society, visit www.hawaiianrailway.com.
---
Posted on August 20, 2013