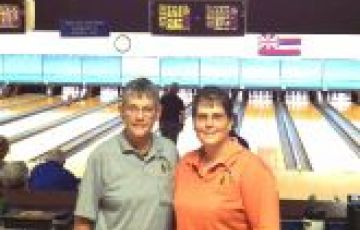 A quiet transformation is taking place in Kalaeloa that is bringing life back into the former Naval Air Station. Over the last four years, Hunt's revitalization efforts in Kalaeloa have more than doubled the number of businesses on its land—attracting 30 commercial tenants that support more than 550 jobs.
"Hunt is the best thing that has ever happened to Kalaeloa," says Linda Painter, owner of the Barbers Point Bowling Center, a Hunt tenant. "Kalaeloa was falling into a serious state of decay and disrepair. Hunt made a lot of improvements that makes it possible for businesses like ours to thrive."
In 2010, Painter and co-owner Bev Brennan spent approximately $400,000 to renovate the 16-lane bowling center and open it to the general public. Low, affordable bowling rates have made the center a favorite of bowling enthusiasts—from league bowlers to student bowlers from Kapolei and Campbell High Schools. It has become known for its Prop Stop Snack Bar that offers affordable eats from fried noodles to chicken wings and daily plate lunch specials such as Rib Eye Steak and Ahi Poke Bowl, as well as all-day breakfast. The bowling center also has a party room ideal for birthdays and other occasions.
Painter and Brennan are deeply involved in the community. Every Saturday morning, they provide bowling instruction to 75 children and each year approximately 20 of these children travel to compete in regional and national competitions, which recently resulted in a mainland college scholarship for one of the center's students.
"Linda and Bev have really done more than just reopen a bowling center," said Hunt Vice President Jose Bustamante. "They have been instrumental in building a sense of community that is vital to the successful redevelopment of the area."
For more information on Barbers Point Bowling Center, visit www.barberspointbowling.com.
---
Posted on March 3, 2014