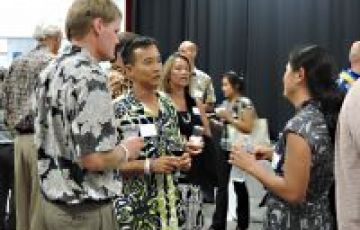 Did you know that there are over 100 businesses and organizations providing more than 2,000 jobs in Kalaeloa on O'ahu's Ewa Plain? The former Naval Air Station Barbers Point has gone through a quiet, but significant, transformation in the last few years. The collective effort from both the private and public sectors is breathing life back into the area and giving residents greater opportunities to work in the community where they live.
To celebrate this growing job center, Hunt sponsored the Kapolei Chamber's Pau Hana Networking Event last week at Podium Raceway in Kalaeloa. The evening brought together 75 local business representatives, including one of the newest businesses in Kalaeloa, Mokulele Airlines, which began daily service from Kalaeloa to Kahului on July 1.
"More businesses like Mokulele are recognizing Kalaeloa's value and excellent prospects for the future," said Jose Bustamante, vice president for development for Hunt Companies in Hawai'i. "It is exciting to see the influx of new businesses and jobs."
Hunt now has 36 commercial tenants in Kalaeloa – a number that has more than doubled in the last four years – providing more than 550 jobs. In addition, the State of Hawai'i reports that there are more than 60 additional businesses, agencies and organizations on state owned lands and others in Kalaeloa. By the year 2035, Hunt estimates that the number of jobs on its land alone will grow to 7,000.
To learn more about some of the businesses in Kalaeloa go to www.huntkalaeloa.com.
---
Posted on July 22, 2014