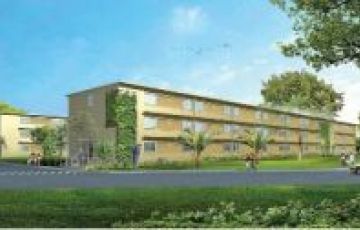 Honolulu Star-Advertiser
By Andrew Gomes
Construction is expected to start Oct. 1 to convert a former military barracks at the old Barbers Point Naval Air Station in Kalaeloa into affordable rental apartments following state approval of the plan Tuesday.
The Hawaii Community Development Authority board voted 6-0 to OK the $10 million-plus project proposed by a local affiliate of Texas-based developer Hunt Cos.
Hunt plans to turn 204 vacant and vandalized studios with shared bathrooms into 100 one-bedroom units renting for $1,300 a month.
The apartments will be reserved for residents who earn no more than 140 percent of Honolulu's median income, or $57,820 for a single person and $74,340 for a family of three.
Hunt officials have said the rental rate plus the cost of utilities is actually affordable under federal guidelines to households earning as little as 80 percent of the median income, or $46,256 for a single person to $59,472 for a family of three.
Amenities are slated to include fitness and recreation rooms, a barbecue area and a lounge. Parking for 157 cars also will be provided.
Soliciting rental applications is expected to happen early next year in advance of finishing renovations by April.
The development firm initially presented a detailed plan for what it calls Building 77, a bachelor officers quarters built in 1958 and vacated in 1999, at an HCDApublic hearing in July. Public testimony was light yet unanimous.
At Tuesday's hearing, no one from the general public testified.
Hunt's affordable-housing project is an initial piece of a master plan the company has for about 540 acres it is acquiring from the Navy at the former base.
The broad plan calls for adding about 4,000 homes, 3.5 million square feet of commercial buildings and 60 acres of open space including parks on a big piece of the 3,700-acre former base closed by the Navy in 1999.
Hunt's master plan dubbed Ho'ala Kalaeloa, or Renew Kalaeloa, is projected to be carried out over the next couple of decades. Other pieces of an initial phase include a light-industrial park and retail marketplace with a grocery store.
HCDA, an agency established in 1976 to improve infrastructure and foster urban development in Kakaako,was given zoning authority for Kalaeloa to achieve a similar goal for the area, where bringing road, electrical, sewer and water systems up to modern standards is estimated to cost $550 million.
---
Posted on September 10, 2014